What Kills Me
by
Wynne Channing
Published by
Jet & Jack Press
on 6/6/2012
Format:
eBook
Goodreads
About the top-rated, best-selling book (#1 in occult, October 2012):

\r\n

The fight for survival begins.

\r\n

An ancient prophecy warns of a girl destined to cause the extinction of the vampire race.

\r\n

So when 17-year-old Axelia falls into a sacred well filled with blood and emerges a vampire, the immortal empire believes she is this legendary destroyer. Hunted by soldiers and mercenaries, Axelia and her reluctant ally, the vampire bladesmith Lucas, must battle to survive.

\r\n

How will she convince the empire that she is just an innocent teenager-turned bloodsucker and not a creature of destruction? And if she cannot, can a vampire who is afraid of bugs summon the courage to fight a nation of immortals?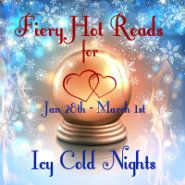 Welcome to my Fiery Hot Reads for Icy Cold Nights post!  This hop is hosted by Kimba the Caffeinated Reviewer, Heidi at Rainy Day Ramblings, Christy @ Love of Books, Veronica @ Mostly Reviews, and Cambria @ Cambria Herbert. I'm bringing you something extra special today with an author whose story I really want to share more with the world because it's just so epic!  I'm a big supporter of indie authors and indie titles and when I initially came across What Kills Me by Wynne Channing, I was so blown away!  And…we want you to be blown away, too!  So, I'm doing a re-run of my review, as well as an interview, and Wynne Channing has graciously offered up an ebook copy to one lucky winner….PLUS a butterfly pendant, a signed bookmark and a personal note from her!  So, without further delay, grab yourself a cuppa joe, and settle in for some fiery hotness from this young adult title!
Other Fiery Hot Reads stops today:
Kimba the Caffeinated Reviewer
The Review Re-Run
---
What Kills Me is what every young adult/paranormal romance should be. Epic, fast-paced and not without a hot, non-sparkly vampire leading man guy to make you feel lusty. And thank god he's not really a teenager, because this reader wanted him bad. Axelia (Zee) is spending a couple of months in Rome on a study program, when she happens upon a beautiful stranger on her way home one evening – or rather, he happens upon her. He beguiles her with his flirty, friendly Italian accent, and they become fast friends. You know that saying "keep your friends close and your enemies closer?" Yeah, that. Or you might run from someone and fall down a well filled with blood and emerge a powerful vampire everyone believes is prophesied to doom the entire vampire race. Man, life sucks. Wynne Channing has given the YA/PNR genres something really, really great. Yeah, you could ask yourself, "who isn't writing something in this space?" But I've been bored with a lot of them lately, so much so that I've deviated into other genres to get fresh content. Coming back with What Kills Me was like a punch in the gut! But in a very great way! Channing's characters are incredibly witty and sarcastic…and still they maintain that level of realism that helps to keep a paranormal fiction book grounded somewhat in reality. I simply couldn't put the book down, and resented things like sleeping when I absolutely had to. Zee's sarcasm and self-deprecating humor is everything Bella Swan should have been and never was. I'm a Twilight fan, but I'll admit, it's not written well and Bella is a dry and drab character until she's turned in the second half of Breaking Dawn. Zee is interesting before she's changed and she's even more interesting after. She looks life (and Death, ha!) right in the face and smirks at her own circumstances, all the while worrying about decorum and bugs. I really liked her. Lucas….oh Lucas. You make my heart go pitter-pat. Lucas, the bladesmith tasked to help Zee, is every woman's fantasy in a leading man: mysterious, quick-witted, and occasionally tender. Swoon. I have nothing against sparkling vampires, and this certainly isn't a comparison review to Twilight, but Lucas was dark and dangerous and he was still funny. He didn't take himself so seriously that he'd, you know, leave his girl in the middle of the woods because he's too dangerous. The two of them together are simply delicious; you know they want to, but will they? Oh pride, it really gets in the way sometimes. She doesn't ignore any secondary characters…oh no. They all get their few minutes of fame, and they are as put together as Zee and Lucas, lending a stronger hand to the overall story. The plot is action-packed and takes the characters from Rome to Thailand to the remote mountains of Asia. I loved traveling with the characters, not knowing where Channing would take us next! There are friends and foes, blood and murder, knives in backs (literally and figuratively). Throughout it all, the plot weaves tightly and thickly, wrapping around the reader and sucking you in (at least this reader). I was fascinated with the method in which Zee was "reborn" and the contents of the well… because while vampires still turn humans the usual way, Zee's circumstances are so unusual, it makes the rest of the story that much more. It is the story. It felt impossible to put down and I can't wait for the next one. Wynne Channing, you can't write the sequel fast enough. Thank you for giving us such a fabulous story.
---
~So the sequel to What Kills Me comes out this summer and you've said we get to meet Lucas' brother…Well, let me cut right to the chase: is he has sexy as Lucas is? Haha. Lucas's brother, Taren, takes over as General. So, he's definitely sexy…but you know, the Monarchy's lackey. Plus, I'm mind-cheating on Lucas right now with another character in the sequel. His name is San. He's Zee's new best friend. I'm still trying to figure out their relationship. ~What's the best part about writing dreamy guys? The best part is that you build them from the ground up (add a dash of abs, a side of green eyes, and some balls — hey, I meant that figuratively!!!) And dreamy means more to me than the physical package (again, get your mind out of the gutter). Lucas for example is insanely protective, of his family, of Zee, and of his own feelings. What woman wouldn't want to feel safe and be rescued? (Though Zee ends up saving him a number of times.) ~Let's say WKM was made into a movie.  Who plays Zee and (ahem) Lucas? Casting your own characters are so tough. I change my mind all of the time. Though Zee can be pretty naive, she's smart, witty, and is capable of sass. I think Ashley Rickards from MTV's Awkward. might be a good fit. She's equal parts vulnerable and kick-ass. As for Lucas, oh man, I couldn't say. Who do you see?  [um….you know what, let's come back to this, it could be a tough role to fill…] ~Is there going to a love triangle in book 2?  Can you tell me that, am I allowed to ask? I'll tell you anything Jenn! I am not setting out to purposely create love triangles, squares, pentagons, or whatever. But now that Zee is in a new, powerful (and attractive) role, there will be others vying for her attention. ~Is Lucas based on anyone you know in real life and if so, can I meet him?  (: Lucas is a compilation of a few people. The way that Lucas and Zee argue, and the way he teases her is based on one guy I know. But no one else can have him because we're getting married this year! (When my fiance and I first met, we did NOT get along.) ~Can you tell I'm obsessed with Lucas?  #TeamLucas! You can be the president of his fan club. I'm the VP.  [yessssssss – *fistpump*] ~What's been the hardest part of writing romance in YA? I really wanted the romance in WKM to be authentic. While I believe that you can fall fiercely in love upon meeting, I was much more interested in exploring the evolution of a relationship. You meet someone and you're swept up on this emotional ride; but so much of it can be confusing. You're suddenly vulnerable and filled with doubt (Does he really love me? Do I love him more? What did he mean by what he said?). And in the sequel, Zee definitely has some time to think — before all hell breaks loose again. ~The easiest? When you've created the right chemistry between two people, the moment they come together, it feels so right. ~If you could play any character in WKM, who would you be? In a movie, I'd love to play the Empress. Best wardrobe ever. Or Samira because a tough girl with purple hair is so cool. ~What's your favorite scene in WKM? Whoa. That's like asking what my favorite potato chip is. I love them all! One of my favorite scenes is when Lucas's father Noel rescues Zee and takes her into his iron working garage to cut off her chains. The moment is filled with genuine warmth. Zee gets to be herself, and trade some jokes with this kind hero. It's brief; but I bond with Noel here. And it makes the next chapters so heart-breaking. Oh, and I also love when Zee beats everybody up in Taipei. Who doesn't love some ass-kicking?!?  [I love a girl that can kick some ass!] ~After you're done writing this series, what's up next? I've planned three books for WKM (I wrote the first with the plots of the second and third already laid out.) I've spent about a year researching for my next book: a standalone psychological thriller set in a high school. Kind of like a dystopian Mean Girls. So I'm excited about tapping into my inner mean girl and finding ways to punish her. ~…Do you think we could get a #TeamLucas meme going? YES!!! LET'S START ONE! ~Wynne, thanks for stopping by and chatting!  Oh, right, we should get to the giveaway portion of this event!
---
Now it's time for the giveaway!
One lucky winner will get an ebook copy of What Kills Me by Wynne Channing, as well as a butterfly pendant, signed bookmark and a personal note from the author herself!  So go enter!
Giveaway 411
To enter, fill out the rafflecopter widget below
You must be 13 years of age or older to enter
This giveaway is US-only
Winner must have a valid email address & US postal address
Winner will be announced on this post after giveaway ends
Winner has 48 hours to respond to email or they forfeit their prize
About the Author
---
About Wynne: Wynne Channing is an award-winning national newspaper reporter and best-selling young adult novelist. Wynne loves telling stories and as a journalist, she has interviewed everyone from Daniel Radcliffe and Hugh Jackman to the president of the Maldives and Duchess Sarah Ferguson. The closest she has come to interviewing a vampire is sitting down with True Blood's Alexander Skarsgard (he didn't bite). She briefly considered calling her debut novel "Well" so then everyone would say: "Well written by Wynne Channing."
Thanks so much to Wynne for sponsoring this giveaway and for stopping by to do such an awesome interview! You rock!