It's the Most Wonderful Time of the Year, so break out the cocoa, the coffee, and cookies! Grab those holiday theme books and bring your holiday spirit. Kimba @ Caffeinated Book Reviewer and I are hosting the Ho-Ho-Ho Read-A-Thon for the third year in a row and we are excited to get together with you!  Prepare to enter challenges, win prizes, meet new friends and Twitter chat with us. You can join for a day or sit by the fire and hang out every day. The more you participate the more entries you will earn for the Participant Giveaway. As always, we are looking for Challenge host please email, tweet or message Kimba or myself. We have posted early so that you have plenty of time to find those holiday/winter reads and clear your schedules.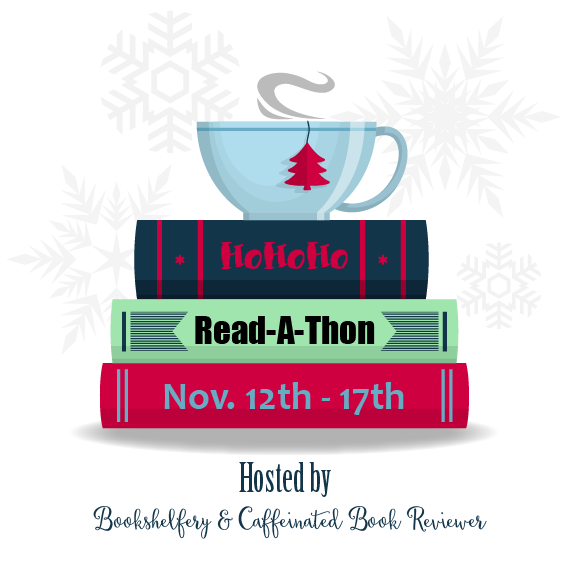 We love holiday themed reads from the covers to the warm & fuzzy tales on the inside. For this read-a-thon you must read holiday themed or winter setting reads. For bloggers, we have spoken to most of the main publishing houses and for ARCS of holiday books released in Sept/Oct, they are fine with you posting a review in November and December since that is when folks look to buy them. Below are the rules. Read them, grab the button and link up. For our non-blogger friends you can join too. Just link your Goodreads, Tumblr or Facebook account. Looking forward to spending time with you.
---
Read-a-thon Rules
Link-up (it is not necessary to link to goal post, just link to account/blog you will be using)
Before or on November 12th, post a goals post to your blog. (if you do not have a blog post to another social media site such as Goodreads, Tumblr, Facebook, Google+ etc ) Be sure and link back to Caffeinated Book Reviewer and BookShelfery. It might be a good idea to friend, like or follow Kimba & I on whatever social media site you use so we can see your progress. Just mention Ho-Ho-Ho so we follow you back!
Grab the button and share !
Participate in at least one challenge to be eligible for grand prize
Tweet your progress using #HoHoHoRAT
Twitter Party! Tuesday November 17, 2015 at 7 pm (EST)  Come chat about the books you have read. There will be prizes.
Challenge schedule and Grand Prize widget and rules will post on November 6th at by 8 am (EST)
Read-a-thon starts on November 12th 12:o1 am (your time zone) and ends on November 17 at 11:59 pm(your time zone)
Challenges will be open from 8 am (EST) on the 12th and remain open until Nov 17th at 11:59 pm (EST)
Grand Prize Raffle will be open until November 18th at 11:59 pm (EST) to allow you to submit entries.
All winners of challenges and grand prize will be notified by November 20th.
---
Grab the Button
Grab the button and spread the word. The more folks who join in the merrier. You can even plan a get together with local friends or buddy read with fellow bloggers. Just add hot cocoa!
---
Challenge Hosts
---
Sign Up
The following two tabs change content below.
Jennifer is both a book nerd and professional photographer. That means she lives in the fantasy world all the time, whether of her making, or someone else's. She collects books like the Duggar family collects kids, and began waiting for her Hogwarts letter at the tender age of 33.
Latest posts by Jennifer @ BookShelfery (see all)