Folks, it's Friday! And you know what that means! Check it: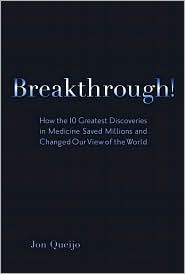 Synopsis
"A wonderfully clear account of the great moments in medicine and a powerful reminder of the possibility of improvement in the fight against illness." -–Matt Ridley, author of Genome
10 World-Changing Revolutions in Medicine…and the Remarkable Human Discoveries That Made Them Possible
• The unforgettable life-or-death stories behind antibiotics, vaccines, DNA, X-rays, and more
• What happened, how it happened, and what it means to you today
• A colorful cast of characters whose discoveries were often driven not only by personal tragedy, curiosity, and hard work, but petty bickering, dumb luck, and a healthy dose of humor
• For anyone interested in science, medicine, and beyond…
Why are you alive right now? Chances are, you owe your life to one of the remarkable medical discoveries in this book. Maybe it was vaccines. Or antibiotics. Or X-rays. Revolutionary medical breakthroughs like these haven't just changed the way we treat disease, they've transformed how we understand ourselves and the world we live in. In Breakthrough!, Jon Queijo tells the hidden stories behind 10 of history's most amazing medical discoveries. This isn't dry history: These are life-and-death mysteries uncovered, tales of passionate, often-mocked individuals who stood their ground and were proven right. From germs to genetics, the ancient Hippocrates to the cutting edge, these are stories that have changed the world–and, quite likely, saved your life."
Get your copy here.
Make sure you also check out Unbound: NOOK, NOOKcolor and NOOKbooks blog.
The following two tabs change content below.
Jennifer is both a book nerd and professional photographer. That means she lives in the fantasy world all the time, whether of her making, or someone else's. She collects books like the Duggar family collects kids, and began waiting for her Hogwarts letter at the tender age of 33.
Latest posts by Jennifer @ BookShelfery (see all)