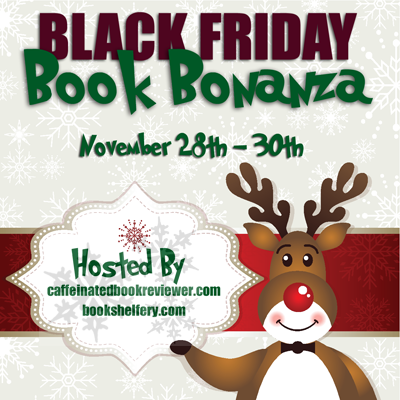 We've made our list and we're checking it twice!
Welcome to the 4th Annual Black Friday Book Bonanza, where instead of charging through the stores like crazy people to snag that last BluRay of Frozen, we get in our jammies, sip on some hot cocoa, and enter giveaways to win books!
This year is hosted by BookShelfery (that's us!) and the
Caffeinated Book Reviewer
.  To enter the giveaways, nav down to the linky and start hopping through!
This year, we're giving away:
1 $20 Amazon giftcard (International)
1 box of mystery books (hard cover, ARCs, paperbacks) from our shelf (US-only)
To enter, use the widget below.  Yup, that's it!
The following two tabs change content below.
Jennifer became addicted to books when she randomly picked up a Sweet Valley High book in grade school. She never looked back. After blowing through the SVH and SVU series faster than her parents could put them in her hands, she began perusing her stepfather's bookshelves and reading fantasy like Piers Anthony's Incarnations of Immortality series, which she still maintains is some of the best fantasy ever. She collects books like the Duggar family collects kids and began waiting for her Hogwarts letter at the tender age of 33.
Latest posts by Jennifer @ BookShelfery (see all)