So, I read 100 pages yesterday of The "What If" Guy by Brooke Moss….progress!  I probably won't be able to finish it tonight, because I have real job stuff to do, but hey, all in a day's work, right?\r\n\r\n \r\n\r\n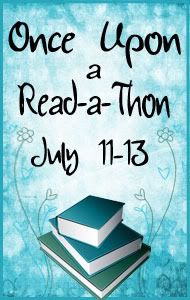 \r\n
Once Upon a Read-a-Thon Mini-Challenge #1!
\r\n
\r\n

Wicked Awesome Books wants to know which two characters from different books I would pair together for love and sappy togetherness, and here are her requirements:

\r\n \r\n

We all enjoy a good love story (don't deny it!), but sometimes the two (or three or four) characters involved in a love story struggle so much, that I just want to say, 'hey, _____ would be so much better for you!' So in the spirit of matchmaking, I'm setting you with the task of playing cupid and shooting your arrows at two characters from different books in, what I'm calling, LET'S PLAY MATCHMAKER!

\r\n

\r\n
\r\nThis is kinda tough for me…oh I know!\r\nFour from Divergent by Veronica Roth + Katnis Everdeen from The Hunger Games Trilogy by Suzanne Collins.  Why?  Because they are both survivors.  Four only has four fears and while Katniss is certainly afraid of a lot (Prim's death, going hungry, being the Mockingjay), she's brave.  Birds of a feather…\r\n\r\nSo tell me, who would you pair?\r\n\r\n \r\n\r\n
The following two tabs change content below.
Jennifer became addicted to books when she randomly picked up a Sweet Valley High book in grade school. She never looked back. After blowing through the SVH and SVU series faster than her parents could put them in her hands, she began perusing her stepfather's bookshelves and reading fantasy like Piers Anthony's Incarnations of Immortality series, which she still maintains is some of the best fantasy ever. She collects books like the Duggar family collects kids and began waiting for her Hogwarts letter at the tender age of 33.
Latest posts by Jennifer @ BookShelfery (see all)